Ladki Hai Ya Shola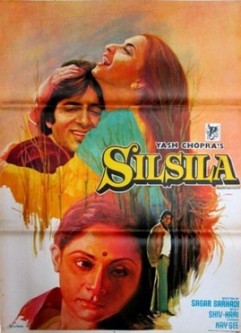 Song: Ladki Hai Ya Shola
From movie: Silsila

Language:

English

Year: 1981
This page has been viewed 265 times.
- English Translation -
Music: Shiv-Hari
Lyrics: Rajendra Krishan
Singers: Lata Mangeshkar, Kishore Kumar
Label : Saregama
Ha pehli pehli baar dekha
For the first time I have seen
Aisa jalwa, ho aisa jalwa
Such beauty, Oh such beauty
Ye ladki hai ya shola (x2)
Is she a girl or fire ?
Hoo shola hai shola, shole se darna
This is fire, fear this fire
Marna to thande, paani mein marna
You'd rather die in cold water
Rahem jawani pe kha
Save your youth
O mundeya rahem jawani pe kha
Oh boy, save your youth
Loote na jawani mein jo sholon ka maza
Who cannot enjoy the fire of youth
Ho sholon ka maza
Oh enjoy the fire
To bolo woh aadmi hai kya (x2)
So tell me, what kind of man is he?
Aayi hai nayi nayi zulmi jawani
I have just come of age; it's new and painful
Karta hai badh ke baaten deewani
The thoughts are maddening
Khair tu dil ki mana
Count your blessings,
O babua, khair tu dil ki mana
Oh boy, count your blessings
Dil jaisi cheez ki manaaun khair kya
I have lost my heart and all of my blessings
Ho manaaun khair kya
Oh, all of my blessings
Main to dono jahan se gaya (x2)
I have lost them both
Ja re shikaari tera jaal purana
Go away my hunter, your bait is overused
Aur kahi pe jaa ke daal ye dana
Try using the bait somewhere else
Chidiya phanse na lambua
I'm not a bird you can trap
O lambua, kudi phanse na lambua
Oh my lanky one, No girl will get hooked
Door kaise hoga tera mera faasla
How will I overcome this distance between us ?
Tera mera faasla
This distance
Rabb jaane ya dil mera
God alone knows my heart
O rabb jaane ya dil mera
Oh, God alone knows my heart
Ooo abhi to dekha hai jalwa door ka
Oh, you have just seen this beauty from a long distance
Haal bura hai mere huzuur ka
And you are head over heels in my presence
Haath pakad ke dikha
Try holding my hand
O soniya haath pakad ke dikha
Try holding my hand, Oh beloved one
Pakdi kalaayi toh na chhodunga kabhi
Once I'll hold your hand, I will never leave it
Na chhodunga kabhi
I will never leave it
O soniye yeh yaad rakhna (x3)
Remember that, Oh my beautiful beloved

---